Myelodysplastic Syndrome
Hypothetical Patient Profile
Learn more about the disease and the patient burden
Myelodysplastic syndromes (MDS) are conditions that can occur when the blood-forming cells in the bone marrow become abnormal. MDS, a type of blood cancer, leads to low numbers of one or more types of blood cells.1 Some health experts estimate that about 10,000 Americans are diagnosed with MDS each year, while other estimates have been much higher: between 30,000 and 40,000 new cases annually in the U.S., with perhaps twice as many cases in Europe. Given the median survival of patients with MDS, the prevalence is likely to be 60,000 to 120,000 cases in the U.S.2 MDS is uncommon before age 50, and the risk increases as a person gets older. It is most commonly diagnosed in people in their 70s.3
When MDS results in low red blood cell counts, anemia can cause severe fatigue and other symptoms. Some MDS patients may benefit from a medication called erythropoiesis stimulating agents (ESA) that helps to stimulate the bone marrow to make red blood cells. However, ESAs typically lose their effect after about two years, whereby the patient will need regular blood tranfusions.4 Some patients may need red blood cell transfusions once every week, while others may only need a transfusion once every 6 to 12 weeks.5 Patients that receive many transfusions over a period of years can develop iron overload, which can affect how the liver, heart and other organs function.6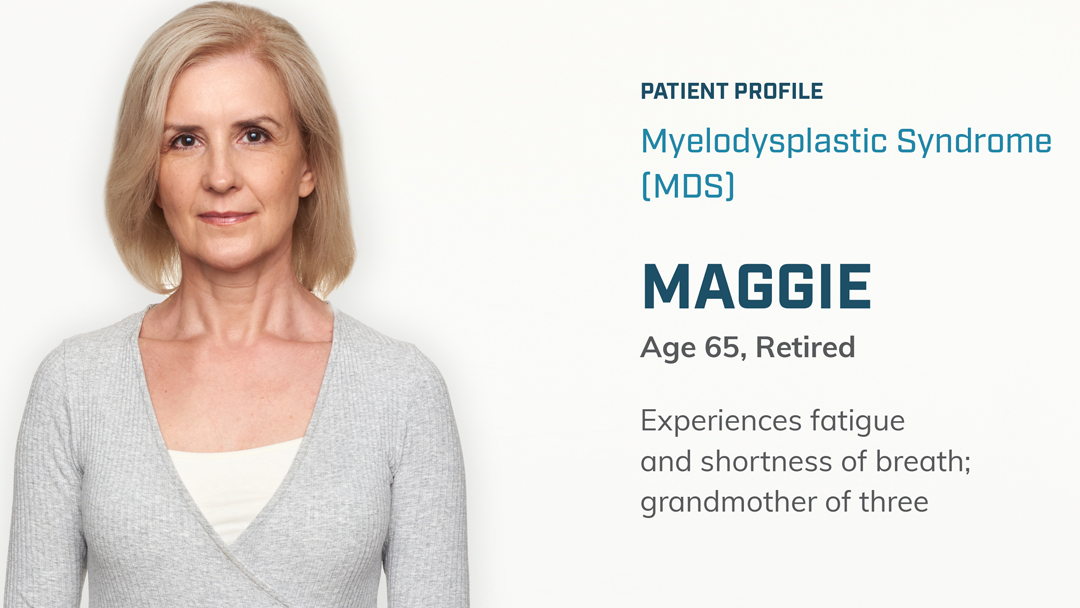 A routine blood test came back with a reduced red cell count and prompted a bone marrow biopsy for Maggie which revealed MDS.
She has completed her initial chemotherapy but still relies on her daughter to get her to doctor appointments and help her around the house when she is not feeling well.
She really wishes that she had more energy to garden and play with her grandchildren and hopes that her condition does not get worse.
CURRENT MEDICAL HISTORY
IPSS-R Classification: Intermediate Risk
Received chemotherapy treatment
Frequent urinary tract infections
Petechiae on skin and easy bruising
MDS-related anemia
CURRENT TREATMENTS
Erythropoietin (EPO) injection 6 months with no response
3 units of red blood cells every 4 weeks
Daily oral chelation therapy
TREATMENT GOAL
Reduce the number of blood transfusions
Eliminate chelation therapy
Increase her energy to garden and play with her grandchildren
CONNECT

WITH HEMANEXT TODAY!
We are happy to answer any questions about the company, our technology, or our research. Please fill out the form below and we will connect with you!